The Write Tools trainers are experts who understand the importance of professional development that is valuable to teachers.
Our trainers have been (and some still are) real teachers, so we know how tedious some in-service trainings can be…some of us used to be the "bad kids" in the back of the room! With this in mind, we've designed fast-paced, interactive, and teacher-engaging training that provides implement-it-tomorrow resources and tools. The Write Tools' trainers are pros at providing professional development that will keep you captivated from beginning to end!
Because we have used these strategies in our classrooms on a day-to-day basis with real students, we are experts at implementing them across content areas and grade levels, and can provide in-depth answers to your questions. Teachers leave with robust resources, renewed and ready to implement what they've learned in their classrooms the very next day!
Our expertise, combined with a sense of humor and flexibility allow us to immediately adapt to the needs of the group. With on-the-spot customized training that meets the unique needs of those attending, every minute spent together is worthwhile and productive. Find out what other participants say about The Write Tools.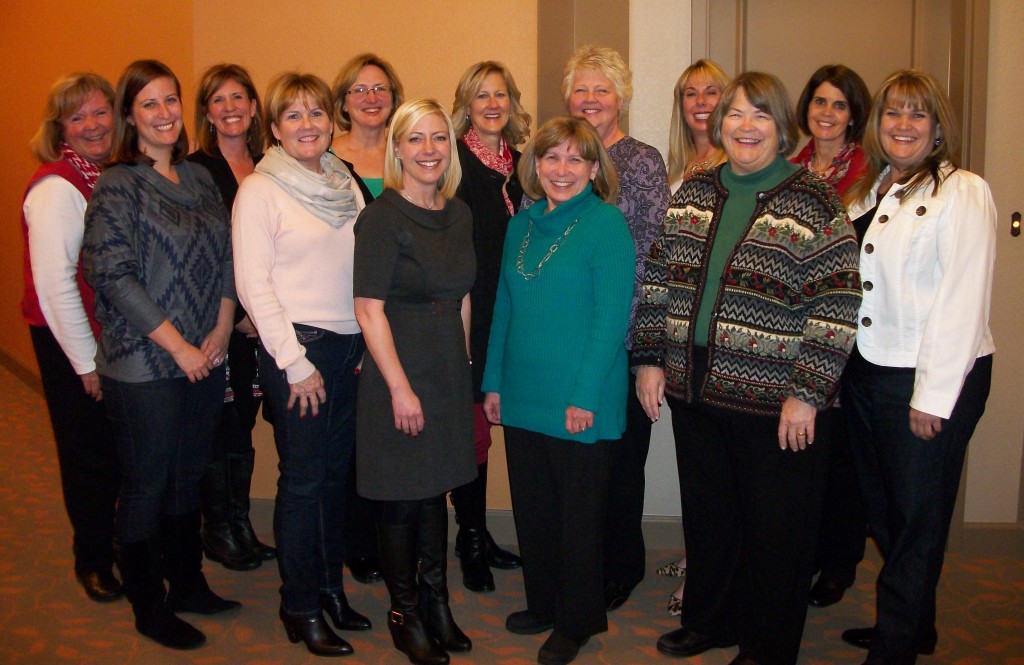 From Left: Alice Greiner, Brynn Luikens, Christy Lyle, Sue Hemauer, Mary Fitzgerald, Heather Warakomski, Gwen Karas, Peg Sage, Laura Swanson, Jen Letheby, Carolyn Simmons, Theresa Riege, Deb Lasse
Learn more about our trainers below.
Alice Greiner is a true believer in the strategies she offers you in The Write Tools.
As an elementary, middle school, and high school teacher, she has implemented these techniques with thousands of students during her 23 years in the classroom. As a Title I reading specialist, she has witnessed the power of these tools for at-risk readers and writers. As an educational consultant for more than a decade, she has seen first-hand what these strategies can do to empower teachers to truly be teachers of writing rather than assigners of writing. As a parent, she has watched her two sons (one a natural writer, the other the poster child for "I hate to write") blossom into confident, organized communicators.
Alice's years of classroom experience, mostly working in high-poverty, high English-learner schools, help her bring to educators a down-to-earth, practical approach to writing. Her relaxed style, sense of humor, and "learn from my mistakes" anecdotes help participants in her workshops feel immediately comfortable. After several hours with Alice, participants often comment, "You really have been a teacher, haven't you?" Alice considers this the highest form of praise.
Born in Oak Park, Illinois, Alice attended the University of Illinois for her first two years of college where she participated in a pilot teacher training program that placed teacher candidates in classrooms immediately. During her sophomore year, she discovered there really was life outside the plains of Illinois, so she transferred to the University of Denver to finish her undergraduate degree in English and education. After teaching for a number of years, she completed her master's degree in middle school education, with a reading emphasis, through the University of Northern Colorado.
In l994, while still teaching full time, she began to offer workshops in reading and writing strategies. As schools discovered what Alice had to offer, and as they began to get great results from the in-depth support she provided, Alice made the difficult decision to leave her teaching career to consult full time. Several years later, Alice began to slowly add talented colleagues to her consulting group. This cadre of extremely experienced, very professional, yet down-to-earth trainers is making a difference for educators and students all across the United States.
Mary Fitzgerald obtained her bachelor's degree in education from the College of St. Benedict in St. Joseph, MN, and a master's degree in curriculum, instruction, & assessment from Walden University, out of Minneapolis, MN. With 30 years of experience in education, including work in public and private school systems on the East Coast, the Midwest, and most recently in Colorado, she has a diverse and rich background in supporting teachers with The Write Tools strategies.
Because Mary's career was spent in school settings, she frequently modeled and implemented the strategies she now shares with you. Mary is passionate about teaching these strategies because they connect to all areas of curriculum, and are truly the best way to promote and assess student learning.
Mary states, "As a young teacher, I felt most insecure about teaching writing. Now I share with teachers, both rookies and veterans, easy, yet effective ways to teach children how to improve their reading and writing skills, and love it along the way! Teaching students reading, writing, speaking, and listening strategies teaches them critical life skills, while first helping them to be college and career ready!"
When not working, Mary enjoys vacationing in Minnesota and Arizona, and loves to travel internationally.
Sue received her BA from Arizona State University and her MA from the University of Colorado at Denver. She teaches middle school in the Cherry Creek School District in Littleton, Colorado, currently in 7th grade. Her 27 year career began in elementary education but for the past 22 years, she has taught 6th, 7th, and 8th grades in middle schools in Cherry Creek.
Sue has been using The Write Tools strategies for 10+ years. Her students write every day, even if it's only for a short time. She says, "TWT makes so much sense to kids and parents. I love to show the planning and revising strategies to parents so that they know how to help their students at home. TWT makes writing easy for kids."
When not teaching or traveling for TWT, Sue enjoys spending time with her three daughters and two dogs. She loves to read, ski, bike, and spend time in Vail, Colorado.
Barbara received her B.S. degree in English education from the University of Nebraska and her M.A. degree in adult literacy from the University of Northern Colorado. With 26 years of experience teaching language arts, reading, and social studies in Virginia, Texas, Nebraska, and Colorado, and experience in using these writing strategies in her own classroom, Barbara is an effective trainer.
She witnessed the immediate effects of implementing these strategies in her own classroom, where most of her students were inner-city immigrant children with a language other than English spoken at home. "I began to apply the simple, logical, and concrete writing strategies with them, and their ability to communicate literally took off." Barbara was so inspired by these strategies that she retired early to spend more time "influencing the influencers."
The love of teaching and experiencing the success of the teachers she trains keeps Barbara enthused about her work. Her personal success stories include tutoring an IEP student and taking him from a failing grade to a 95% average in his composition class. She also taught a student who came to her class having spoken English for only a year and a half. With these writing strategies and the student's perseverance, he is now an honor student at the University of Colorado in Boulder.
Barbara and her husband are busy learning Spanish as they travel to Honduras twice a year to teach these writing strategies. When not studying Spanish, she's busy with her five grandchildren or taking piano lessons.
Gwen graduated from the University of Northern Colorado with an undergraduate degree in elementary education and a graduate degree in remedial reading. For the past 25 years, Gwen has taught grades K-5 for the Aurora, Colorado, public schools. As an elementary teacher, she knows that writing is a critical piece of everyday instruction. Gwen integrates the foundations of writing into all subject areas in her classroom throughout the day. For the past eight years, she has been training educators in Colorado, Wyoming, and Arizona how to effectively teach writing strategies .
Because she is an active teacher, Gwen is able to bring many student samples to her trainings. She is able to relate to teachers who are teaching children who have never held a pencil, all the way up to students who need instruction on researching and writing essays. Gwen enjoys training teachers because "nothing compares to the satisfaction I get when working with a group of teachers who can get as excited about teaching writing as I am!"
At the end of a busy day, Gwen enjoys time with her husband and two wonderful, active children. She marks each year by helping to make Loukoumathes, a Greek dessert, for 40,000 people.
Patty graduated from the University of Colorado with a bachelor's degree in elementary education. She started developing The Write Tools' Writing Software in 2007, following her own professional development participation in a Write Tools training at her school where she taught students with moderate to severe learning needs. She has been a technology consultant for The Write Tools since 2009, and became a trainer in 2011.
The software road to The Write Tools was paved with a 15–year career in computer programming and management, followed by eight years in education. When Patty introduced The Write Tools literacy program to her students with special needs, she knew immediately that she'd found the ultimate set of strategies to help her reluctant students flourish as writers. Implementing these strategies offered the differentiation and systematic instruction her students needed.
With her background in programming, Patty began to look for ways to help her students when she couldn't be in their classroom. This need gave birth to The Write Tools Writing Software. When asked about the software, Patty stated, "I believe the software is a great supplement to The Write Tools training, but nothing can replace the explicit, systematic instruction of The Write Tools by a teacher who has been trained in these strategies."
When she isn't thinking of ways to improve the software, investigating new apps, or researching new digital tools, Patty enjoys skiing, biking, or playing tennis with her family and friends.
Deb received her Bachelor's degree in elementary education from the University of Alaska Southeast in 1995. She's taught Title 1, first, third, fourth, fifth and sixth grade in her 14 years in the classroom in both Alaska and Arizona.
"I never was formally taught in college how to teach writing to students. I admit I was an 'assigner' of writing before learning the life-changing strategies The Write Tools offers. Now, I know the kids I taught since learning these strategies have a strong foundation in writing and the skills needed to succeed in their future classes. I love this program, and the ability to share it with other educators." Deb's energy and humor contribute to the enjoyment participants experience in her trainings.
When not training, Deb loves to relax in the pool, travel with her family, and play in the warm waters off the coast of Florida. She, her family, and two dogs currently live and play in Queen Creek, Arizona.
Jennifer Letheby received her B.A. in sociology and education from the University of Denver, and her M.A. in educational leadership from the University of Northern Colorado. Jen has been in education since 1994, working as a Title I teacher, fourth and fifth grade teacher and middle school literacy coach. She has been a consultant with The Write Tools since 1999.
Enthusiasm and humor are what Jennifer brings to her trainings. Because of her experience working with all levels of students and teachers, she is a messenger of knowledge and creative ideas brought straight from the classroom. Jennifer's enthusiasm comes from the ability of these strategies to create confident, successful writers. "Every time a student feels successful, his or her self-esteem goes up a notch, and it's amazing what a confident kid can accomplish."
Teaching demonstration lessons in different classrooms is one of Jennifer's favorite parts of her job. "Because I don't have the treat of having my own classroom anymore, I get to be like a favorite aunt. The kids typically enjoy having a guest in the classroom, and I have the advantage of freshness. …I'm ready to work with each and every student with 100% enthusiasm and energy."
Jennifer's busy schedule includes time with her husband, son, and two dogs. She loves to cook, entertain friends, and go fly fishing!
Brynn graduated from Montana State University-Billings with a degree in Elementary Education, and earned an M.A. in Teaching & Learning from Nova Southeastern University. She specializes in teaching third grade, but is also experienced in teaching kindergarten and first – fourth grade Title 1.
The first year of Brynn's teaching career, she was hired to teach third grade writing in Rock Springs, Wyoming. "I enjoyed teaching writing, but felt that I was missing a component that would help make writing more concrete for my students," Brynn says. When she attended her first Write Tools training, however, she knew immediately that TWT had the strategies she had been looking for. Soon after implementing TWT strategies, her students began to make phenomenal gains. Their writing scores soared to 98% three years after she and her colleagues implemented TWT strategies throughout their school.
Throughout her years as an educator, Brynn has become a peer leader in the area of writing instruction. She has worked with collaborative groups across many grade levels, focusing on planning, instruction, and assessment of writing. Her solid understanding of best practices and leadership experience with writing instruction has allowed her to join TWT training team with ease.
Brynn currently teaches third grade in San Antonio, TX. She enjoys many adventures with her husband, dog, and cat.
Christy received her undergraduate degree from the University of Nebraska at Kearney. She went on to earn her teaching certification at Metro State in Denver and then a master's degree in educational counseling at the University of Phoenix. Her teaching career has ranged from teaching in the Littleton, Colorado public schools to teaching English as a foreign language in Prague and Florence.
Christy has been a trainer since 2000 and her energy is contagious. Christy says, "I was one of those kids that hated to write, was never taught how to write, and always struggled as a writer. As an adult, I learned these strategies and had many 'A-ha' moments. I realized immediately that if a person has the right tools, they can write successfully!" It has become Christy's passion to help as many kids and teachers as possible. Her proudest moments are when teachers say "My life would've been so much easier if I would've had this as a child!" Or when a teacher comments how a particular child has always struggled with writing and now they're doing it…without argument!
When Christy is not training, she enjoys time with her husband, 2 boys, and mastiff, Bella. A native of Colorado, she has an adventurous spirit and loves to travel, golf, ski and spend time with friends.
Theresa earned her undergraduate degree with a major in elementary education and minors in Spanish and bilingual/bicultural education at the University of Wisconsin-Whitewater. She earned her master's degree in professional development through the University of Wisconsin-LaCrosse. She has taught grades K-7 in Wisconsin, Illinois, Indiana, and Colorado. Theresa is also trained in Thinking Maps, Kagan's Cooperative Learning, Cognitive Coaching and Facilitation Training. In 2007, Theresa was named Teacher of the Year in Douglas County, Colorado where she currently is a Building Resource Teacher; providing professional development and mentoring to all staff.
Having taught writing strategies in her own classroom for 15 years and then as a staff developer for 15 years she is well versed in the difficulties teachers face. Theresa states, "I pride myself on my ability to know what is important. The job of a teacher can be difficult and time-consuming, so I work hard to make staff development meaningful. I keep up to date on current research in all content areas and try to differentiate staff development to meet the needs of the group."
Theresa's ability to positively affect so many teachers and students through her trainings is what keeps her going. She enjoys meeting educators from various cities and states because she knows she will learn from them as they learn from her.
Theresa lives in Littleton, Colorado and enjoys biking and skiing with her husband and two children. She slips away from it all to Lake Winnebago, Wisconsin, but also considers the simple pleasure of her monthly book club meeting a highlight in her life.
Peg Sage earned her bachelor's degree in Elementary Education from Idaho State University and her master's degree in Whole Learning from Regis University. She retired from the classroom after teaching for 33 years. Peg has been a trainer since 1999.
Peg's many years of experience in teaching writers of all levels bring authenticity to her trainings. Peg says, "I have been there and I have much to share. These strategies make sense and help teachers and students feel successful. I like to do what works."
Peg realizes the value of training that can be used immediately in the classroom. The enthusiasm generated from teachers as they learn and practice The Write Tools' strategies keeps Peg excited as well.
In her spare time, Peg volunteers for Denver CASA and enjoys gardening, tennis, and music. She and her husband live in Centennial, Colorado and have two grown children.
Carolyn earned her undergraduate degree in elementary education degree from Miami University and her master's degree in curriculum and supervision from the University of Denver. She also holds a Type D Principal's certificate. Carolyn has spent 7 years of her teaching career in the elementary grades, 19 years teaching literacy and social studies at the middle school level, and 4 years as a literacy coach and instructional resource teacher.
Carolyn has been a trainer for the past 14 years and likes to keep her training fast paced and fun. Her clear understanding of issues such as data assessment and differentiating teaching for a variety of learners makes her stand out as a trainer. Carolyn states, "As I've worked with teachers all over the United States, I've learned to appreciate how hard teachers work and how much they care about their students. The fact that I have something to offer that makes their job more successful and fun is a gift for me. I love that what I enjoy doing so much makes a positive difference in classrooms."
Carolyn's down time is spent playing bridge, traveling, reading, and visiting with family and friends.
Laura Swanson earned her bachelor's degree at the State University of New York-Oswego and her master's degree in educational psychology/gifted education from the University of Connecticut. With more than 30 years of teaching experience, she has worked with a wide variety of learners. As teacher to a classroom of brain-injured students, K-8 gifted resource teacher, adult literacy/home economics instructor in Africa, and a regular classroom teacher, Laura has always worked to meet the particular needs of her students.
Her strength as a trainer comes from this wealth of experience and her practical, day-to-day knowledge of how classrooms function. Beause writing is the record of students' thinking and learning, Laura's greatest satisfaction in teaching writing strategies comes from helping students become proficient writers and gain confidence in their writing skills. Training teachers to use these tools extends vital skills to more students and compels Laura to continue as a trainer.
Laura has seen how these strategies can be used in subjects outside of language arts. "After a summer workshop, a middle school science teacher in California successfully used many of the writing strategies in her science classes. Her excitement for two-column notes, summary without words, and speeches was contagious and shows how easily content-area teachers can use the writing tools."
Laura lives in Aurora, Colorado, with her husband and two daughters. In addition to spending time laughing with her family, she enjoys reading, traveling, and low-maintenance gardening.
Heather obtained her B.S. in business from the University of Colorado at Boulder. She received her teacher certification training in elementary education from the University of Colorado in Colorado Springs. Heather's experience prior to becoming a trainer for The Write Tools includes teaching primary and intermediate grade levels for seven years in Colorado, South Carolina, Virginia, and Hawaii. She also served as a Title 1 reading teacher and the building writing coordinator for a year in Hawaii.
Because Heather taught both primary and intermediate grades, she is able to articulate various writing strategies viable at either level. She uses an entertaining, creative approach to problem solving when working with teachers. Heather's drive as a trainer comes from her desire to share these strategies and bring out the best writing skills in every student she encounters.
As with many of the trainers, Heather is passionate about teaching these strategies because of her own success with her students. "A previous class of mine was never very excited when I announced it was time for our writing lessons. However, after teaching these tools, the class cheered when the same announcement was made. My students who once struggled to get a sentence or two on paper at the beginning of the year were now writing complete essays and enriching their papers with their own voice."
Heather's sense of adventure goes way beyond the classroom. She and her husband enjoy adventurous travel. She has bungee-jumped in New Zealand, scuba dived the Great Barrier Reef and did some shark-cage diving off the North Shore in Hawaii.
Partner with us to provide the missing piece to your literacy instruction – a solid writing program.
The Write Tools has helped schools around the nation improve their writing instruction, increase student engagement, and improve test scores with Consistent, Systematic, Explicit Writing Instruction that includes Common Language, Common Strategies, and a Common Vision. The Write Tools training team is a group of professional staff developers with a passion for improving literacy. We believe in what we do. We know the strategies work because we have all used them with real kids in our own classrooms.
Contact The Write Tools at 303-221-5301or training@thewritetools.netto find out how we can partner with you to take your writing instruction to the next level.